Don't miss the special offer for September…scroll down!!
Join the Fun!
As a Stampin' Up! demonstrator for over 5 years I have personally welcomed people just like you to my team. We are a small group and a few of them are not in this picture because they live in different state. We would love to welcome you to our community and to have you join in all the fun of making new friends, stamping with new product, sharing your creations, participating in challenges, prize patrol, weekly training/check-in events, and so much more! Our private virtual Facebook group is the perfect place to hang out and do all of that!
BENEFITS!
Enjoy a 20% discount on all of your Stampin' Up! Purchases
Receive new catalogs EARLY
Order new product EARLY
Attend virtual and in person demonstrator only events
Join the community of Notables Stamp Team in a private FB group
Enjoy hostess benefits (Stampin' Rewards) just the same as customers
Simply enjoy the discount, new friends and lots of ideas, or, start building a business anytime. No pressure.
SPECIAL OFFER FOR SEPTEMBER 2020: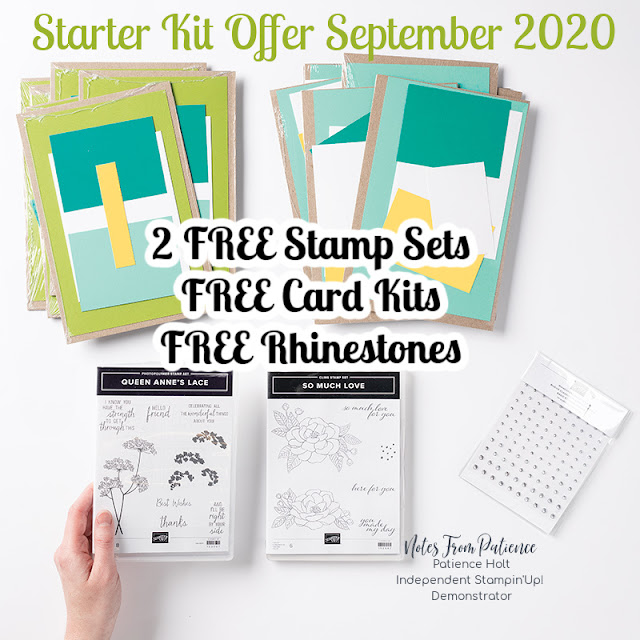 During September of 2020, Stampin' Up! is adding these great product absolutely FREE in your Starter Kit!!
So Much Love stamp set ($20, page 53 – annual catalog)
Queen Anne's Lace stamp set ($17, page 135 – annual catalog)
Rhinestone Basic Jewels ($5, page 156 – annual catalog)
8 packs of precut cardstock of the Coastal Cabana pack will be provided (packs include envelopes).
8 packs of precut cardstock of the Granny Apple Green pack, for a total of 16 cards (packs include envelopes).
Image of this entire free add-on is shown above.
These are in addition to your $125 in products of your choice AND the free business supplies in your Starter Kit!!
Customize your starter kit in any way that FITS YOUR CRAFTING NEEDS or use this list as a starting point! This is a sample starter kit.
How to Join Stampin' Up!:
It's easy! Let me show you the 4 easy steps and how to join the Notables Stamp Group!
Click HERE to read more details
Click HERE to contact me with any questions
Write out your shopping list for $125 in product for your Starter Kit. Kit must be $125 in product or less. You pay only $99 + tax. SHIPPING IS FREE on your starter kit! (that's an additional $15 savings!!)
Click HERE and then click Join Now to fill out your application and Starter Kit form
IF YOU WANT THE FREE ITEMS SHOWN ABOVE, please wait Until Sept. 1st to click the Join Now button!