Every month I have a new and different Host Code. You can use this code to earn FREE Stuff from ME! If you are placing an order up $35 or more, you will receive the Current On-line Class Kit. Order of $50 or more will receive the Current On-Line Class Kit as well as the Embellishment of the Month. Orders greater than $150 earn Stampin' Rewards from Stampin' Up! – so you will not want to use the code in this instance – please reward yourself! You will still receive the On-line Kit and Embellishment of the Month – Just Email me and Let me know that you would like to have it. Simple!
It seems like yesterday that we were celebrating the beginning of the year, I blinked and now we are started February. If you have not had a chance to look at the 2023 Jan-April Mini Catalog, Now is your chance. You can click HERE to see it or there is an icon on my blog page on the right side menu for that also.
SALE-A-BRATION IS HAPPENING NOW
I'll be sharing the Sale-A-Bration photos and projects. If you don't already have a copy of the brochure, I offer free copies to all of my customers. Please contact me through email at stampingwithpatience@gmail.com if you don't currently work with a Stampin' Up! demonstrator and would like to be my customer.
If you don't have a Stampin' Up! Demonstrator, I would love to be yours! If you don't have a catalog and you live in the United States, please let me know and I will be delighted to send you one.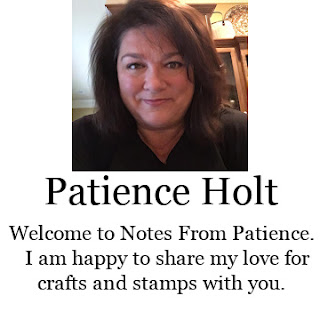 YOU CAN SEE ALL THE AMAZING PRODUCTS FROM THE SALE-A-BRATION CATALOG HERE.
I HAVE ALSO PUT A LINK FOR THE