Hello everyone! Today, I am going to share just some of the photos from
my first On Stage Live Event April 14th – 16th! When we arrived it was very cold and
very rainy. We all flew in on the 13th to get settled in at the Holiday Inn Express across the street from the event.
The mountains were beautiful once the clouds moved to let us have a peek. It even snowed a little on Thursday morning. Shock to my system after enjoying Spring weather in Arkansas.
We started out with a general
session. It was so much fun seeing Stampin' Up people that I had only seen on the internet on some of my favorite pages. After general session, we got a chance to look and experience new products! The entire experience is so uplifting and gives you confidence to try new things.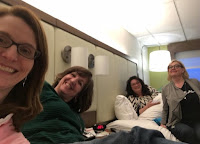 Kay, Cindy, Me & Elizabeth – Ready for Day 1
Rainy and cold when I arrived
Everyone Loved our Shirts – Thanks Lana
Waiting and setting up Swaps
Cindy is Happy. We were first in Line!
Entertainment was spot ON
Good Morning – God's creation – awesome
Elizabeth and Kay
Happy girls – 2nd Row!
We even had a chance to stamp!
1st On Stage Live in the Books
Product Presentations were great!
Dinner with the girls